Bonded and Insured.
Our Products:
The cleaning products we use on the job site are at no charge to the customer, including the vacuum we bring along to use. Of course, if the client would like us to use their cleaning products (due to allergies, environmental concerns, they believe their products perform better, etc.), we will be happy to use them. We err on the green or
EARTH-FRIENDLY
side of life's equation in that we
RECYCLE
our cleaning towels and do not use disposable paper towels. All towels are washed and sanitized.
Definitions:
See the quality of our work!
"Before" and "After" photos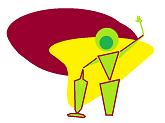 W E L C O M E
We are a house cleaning service.
We happily clean: homes, apartments,
condos, small building common areas, small businesses and small offices and hallways.


We began cleaning homes in 1981, when we volunteered to help people
(often people we knew well and cared about), who were dying of AIDS and Cancer. We discovered that their having a clean home made them feel better; and since very little caused them to feel better (in those early days), we continued to do it. After awhile, we were cleaning homes for others as well.
More importantly, we also clean for Special Needs people.
We respectfully clean for people who had or have long-term mental or physical dilemmas and who have been too distracted to clean for themselves for a long period of time and who therefore may also require our additional fabulous organizational skills (at an additional cost). Who do we define as "Special Needs" people? (Click to read our description.)
We can organize your chaos,
straighten your chaos, make sense of your chaos with your assistance, and finally, clean what we have transformed into a comfortable usable space.
Many other "cleaning" or "organizing" services
do one or the other of these services, but not both. We do both – and we do BOTH at the same time!
Other services available:
"Detailing" – Cleaning in preparation for the sale of a home; pick up your stuff and clean. "Mom's coming!" – and both cleaning and organizing need to be done quickly. "Moving" – organizing, with your help, clean up and cleaning for the deceased or others who are not coming back home (from the hospital, nursing home, rehab center, etc.). "Downsizing" – for your soon-to-be move to a smaller home, or helping you to organize and put things in your proper place after your new move in.
Early Morning Service
We can come and clean before your day starts so as not to interrupt your day.
Before & After Photos

WE ARE:


NON-JUDGEMENTAL

RESPECTFUL

RELIABLE

EFFICIENT

PRACTICAL

COMPASSIONATE

THOROUGH
(with your help)

EXPEDIENT

DEPENDABLE

EMPATHETIC

SENSITIVE
FREE ESTIMATES
CALL TODAY